Lumasis.com WEB SITE EXAMPLES
Every Lumasis created web site is designed to fit the particular image and needs of that customer. Below you'll find representative examples of the type of web sites created for that particular web site package.
Contact Lumasis today at 317.733.0084
Basic Web Site (one-page simple design)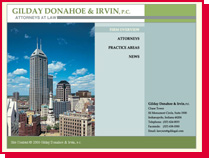 GDILegal.com
Gilday Donahoe & Irvin is an Indianapolis-based law firm specializing in business, taxation and real estate litigation. With offices on Monument Circle in Downtown Indianapolis, Gilday Donahoe & Irvin irepresents clients statewide in courts throughout Indiana.
This site began as a one-page business card info web site. It is now a starter web site package that gives the firm profile, attorney bios, practice areas, and current news. Their web site also provides a point of contact and reference for local, regional and national clients.

Starter Web Sites (pre-produced template design)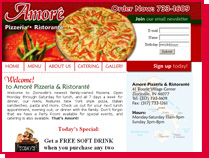 AmoreZionsville.com
Amore is a popular family-owned Pizzeria featuring New York style pizza, Italian sandwiches, pasta and more.
Amore came to Lumasis needing a colorful, family-friendly web site with their business information, hours and menu online. They also wanted to feature their catering services and promote their email newsletter which Lumasis provided. Included in the site package is a photo gallery tool that allows the Amore' crew to manage their online photo albums and update food and store patron photos.
---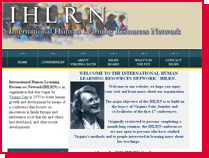 IHLRN.org
International Human Learning Resources Network(IHLRN) is an organization begun by Virginia Satir in 1970 to foster human growth and development by means of a conference that focuses on innovations in family therapy and intervention tools that she and others have developed.
The IHLRN needed a web site to promote their conferences on human networking and potential, as well as a tool to document the teachings of their inspirational founder. The IHLRN web site also provides recent conference reports, their annual yearbook (PDF download & view), photos from conferences, travel & lodging, information, board members contact page and a contribution portal to the organization.

Business Web Sites (custom template design, content & implementation)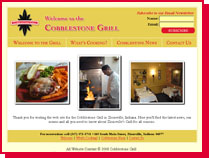 CobblestoneGrill.com
The Cobblestone Grill is an upscale yet casual restaurant located on the brick Main Street in the heart of the quaint village of Zionsville, Indiana. The Grill features Sunday brunch, lunch or dinner in the elegant dining room, private Garden Room or casual Cobblestone Bar - with 4 HDTV sets.
Kent and Liz Ezra, owners of The Cobblestone Grill, have been long-time customers of Lumasis and were ready to update their website from our previous design. We decided to simplify the design concept, emphasizing the logo colors, muted tones of the restaurant itself, and generally let the pictures speak for themselves.
---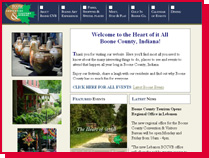 BooneCVB.com
The Boone County Convention and Visitors Bureau came to Lumasis for a comprehensive web site that promoted the extensive points of interest, shopping, arts, attractions and seasonal events and festivals available in beautiful Boone County, Indiana.
Lumasis created a web site featuring current event listings, many colorful photographs of current events, featured business owners, and delectable restaurant offerings along with copy content designed to attract tourism visitors. The site also features a Lumasis email newsletter program, with quarterly newsletters now being sent out to interested visitors, event coordinators and travel agents across the Midwest.
Using both custom-designed videos and seasonal TV spots, Lumasis imbedded these as quick-load streaming video files throughout the web site - a cutting edge process that gives the site the added marketing power of online multimedia.
"Since its launch in April, 2007, the BooneCVB web site has enjoyed a 70% increase in hits and visits. We've received many emails complimenting the design and user-friendly layout, too." Kim Kiger, Executive Director, Boone County Convention & Visitors Bureau
---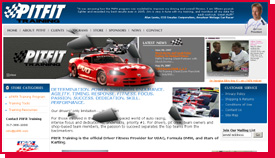 PitFit.com
Pit Fit Training offers strength and training programs to specifically address the physical and mental demands of the motorsports industry. Pit Fit clientele are both race drivers and crew members dedicated to reaching and maintaining a peak level of performance.
Lumasis was brought in to create a unique web site for Pit Fit that showcased the many professional athletes using their services, as well as provide an online store for customers to purchase the same training tools and resources that these professionals use on a daily basis.
PitFit.com utilizes a PHP database for news updates and stories, Flash multimedia audio and animation to bring a demanding presence to the home page, and the e-commerce utilities of Miva Merchant, specially customized for the Pit Fit online store. The web site has drawn attention from both drivers, teams and racing organizations.
---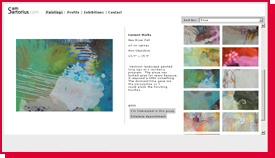 SamSartorius.com
Sam Sartorius is an artist with a vast portfolio of colorful and unique oil paintings. Sam wanted a site to showcase her current works and past exhibits, as well as a way for interested viewers to easily contact her regarding a piece they may want to buy.
To accomplish this goal, Lumasis created an online database and client administrative tools that allow Sam to upload her own images, assign titles, pricing and information to her work, and group art into respective galleries. This gives Sam the freedom and convenience to be directly involved in the direction of her web site content with the control to make revisions and updates at any time.

"An artist's work is constantly evolving, which my web site allows me to project." Says Sam, "Lumasis created the exact web site layout I needed to showcase my portfolio."
Ecommerce Web Sites (online sales & order processing)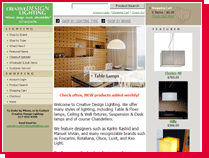 CreativeDesignLighting.com
Creative Design Lighting is a new online lighting store that sells Table Lamps, Floor Lamps, Ceiling Lamps, Wall Lamps, Suspension Lamps, Desk Lamps, ChandeliersFountains, and Bath Lighting.
They provide imported lighting fixtures from such well-known designers as Foscarini, Rotaliana, Oluce, Luxit, Axo Light, and Hunter Lighting, among many others.
Lumasis was hired to provide a unique and customized shopping cart experience for showcasing and selling CDL's fine products. We began with the basic e-commerce structure that Miva Merchant provides, and incorporated a style and design that would cleanly present the products for sale, using industry acknowledged design standards to provide consistent brand presentation and logical site navigation. We also included some elements to provide customer interaction, such as featured products and a mini shopping cart display.
---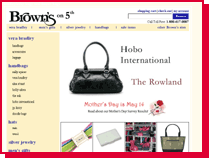 BrownsOn5th.com
Brown's On 5th is an established furniture and antiques store nestled in the heart of Zionsville, Indiana. Having enjoyed much success with their brick-and-mortar store for over 55 years, the company wanted to reach a larger audience online while expanding their inventory to include many more items.
Lumasis designed a site that captured the essence of Brown's friendly, accessible store, and helped them incorporate the Miva Merchant shopping system that easily incorporated their existing inventory along with a variety of other items, such as their line of Vera Bradley handbags and framed stamp artwork.
In the time that BrownsOn5th.com has been live, they have quickly established their online presence and built a large customer following, thanks to the complete package of design, maintenance and hosting from Lumasis. And due largely to the success of this online venture, the Brown family recently opened a retail location in downtown Zionsville, Brown's On Main, to house one of the country's largest collection of Vera Bradley items for sale!
---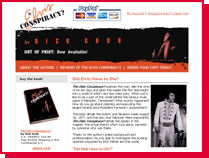 ElvisConspiracy.com
The Elvis Conspiracy? by Dick Grob is a book that details the players in the tragedy of Elvis' death and outlines the actual events which took place as narrated by someone who was there.
Lumasis customized the popular OSCommerce shopping cart to present a branded shopping experience for customers interested in purchasing the novel in the only location available, as it is no longer in print. The use of the OSCommerce engine allows customers to browse the store for interesting Elvis-related products for sale, add them to their basket and check out when desired. The php back end tracks session information to pass their order from page to page, and the integration of PayPal allows customers to complete their sale instantly in a secure shopping environment.

Custom Web Sites (unique site features & extensive services)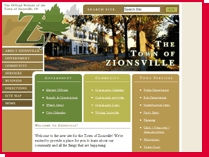 Zionsville-IN.gov
The Town of Zionsville contacted Lumasis when it needed to develop a government web site to bring all of the various town department and community information under one online umbrella. The goal in creating this resource is to allow residents of Zionsville to quickly and easily access all government, community, and town information in a single location.
Lumasis created a web site that answered these demands, while maintaining the consistency of design and ease of accessibility desired by the Town and required for government sites.
The eye-pleasing web site design incorporates a lot of different information from various departments. Lumasis included a client content management tool that allows department directors and administrators access to the page content in their respective departments, to make updates, add announcements and upload documents and images to the site. The site was designed to allow maximum flexibility for these various departments, while maintaining consistency in the page design and accessibility of the content.
---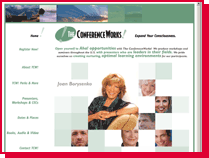 TheConferenceWorks.com
The ConferenceWorks! (TCW!) is dedicated to the evolution of personal consciousness. Showcasing today's most relevant presenters, TCW! seeks to bring wisdom, learning and new perspectives to attendees at workshops held across the United States.
TCW! needed Lumasis to create a website that would showcase their schedule of national presenters, allowing the staff to make changes to any and every facet of the information presented. They needed to build a registration process that would easily allow customers to purchase tickets online to upcoming events, as well as function seamlessly with their office registration system already in place.
Lumasis created a completely custom database-driven website that allows administrators of the site to create new presenters, workshops, locations, dates, prices, and discounts in real time through an online interface. The site was designed to dynamically present only current information to the new registrant, to automatically capture registration details and process payments online, and to export registration data to their internal management system as well.
"Over 45% of our workshop registrations are now done online at the TCW! web site, compared to less than 10% a year ago." reported Rae Baskin, partner in The ConferenceWorks!, " Lumasis created a site platform for us that allows instant updates and inclusion of new presenters and workshops. The registration program has proven to be the most convenient way for our attendees to sign up for and receive online information about our workshops."
---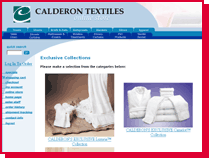 CalderonTextiles.com Online Store
Calderon Textiles was founded in 1983 with a vision of providing quality linens, the best possible service, and competitive pricing within a national distribution network. The company focuses on four major industries: hospitality, healthcare, textile rental, and retail automotive body care.
Calderon uses their online store to process many orders from various vendors, as a way to streamline the customer service process and provide accessibility and information to their many clients.

Lumasis was hired by Calderon to create a new online shopping system that implements a variety of rich online features customized for their unique needs, while maintaining as closely as possible the original visual design and functionality on the front end for existing customers. The most significant benefit was to provide a smooth and pain-free transition in technologies to the new shopping system.
Lumasis delivered a custom solution to meet the exact needs of this growing company, and help them expand their online business.